Welcome to the Town of Ocean Breeze
Town of Ocean Breeze
Regular Town Council Meeting
Monday, January 11, 2021 at 10:30am
Ocean Breeze Resort Clubhouse, Pineapple Bay Room
700 NE Seabreeze Way – Ocean Breeze, Florida
---
Town of Ocean Breeze

Final Budget and Proposed Millage Rate Hearing
Wednesday, September 23, 2020 at 5:01pm
 Ocean Breeze Resort Clubhouse, Pineapple Bay Room
700 NE Seabreeze Way – Ocean Breeze, Florida
ALL ATTENDENDEES ARE SUBJECT TO
MARTIN COUNY ORDINANCE NO. 1136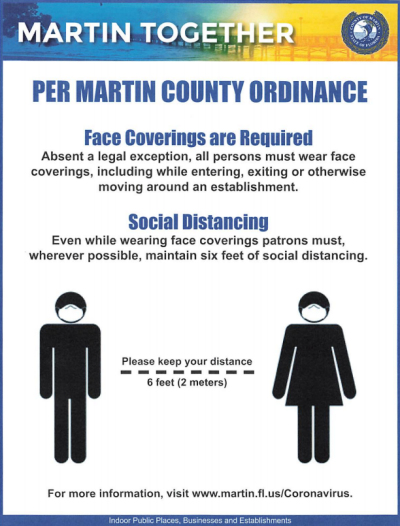 Questions, please contact:
Pam Orr, Town Clerk (772) 334-6826
email:  townclerk@townofoceanbreeze.org
Martin County Sheriff's 24/7 non-emergency incident phone number:
772-220-7170
Coronavirus (COVID-19) Information for the Public
Protective Measures:
Ensure the readiness of your disaster supply kit.
Stay home when you are sick, except to get medical care.
Cover your coughs and sneezes with a tissue, then throw the tissue in the trash.
Wash your hands often with soap and water for at least 20 seconds, especially after going to the bathroom; before eating; and after blowing your nose, coughing, or sneezing.
Avoid touching your eyes, nose, and mouth with unwashed hands.
Clean frequently touched surfaces and objects daily.
Practice social distancing and avoid close contact with people who are sick.
Per CDC's recommendations, agencies and organizations are encouraged to cancel large gatherings (e.g., >250 people), and smaller gatherings that may bring persons together from multiple parts of the country.
Per CDC's recommendations, organizations that serve high-risk populations, are encouraged to consider cancelling gatherings of more than 10 people.
Discuss how your family may take care of sick family members while trying not to get infected. CDC Guidance for Home Care
Businesses should prepare now, actively encourage sick employees to stay home, consider telecommuting options, perform routine environmental cleaning and consider cross-training key staff to mitigate potential absenteeism. CDC Guidance for Business
o Governor DeSantis has activated the Business Damage Assessment survey to assess the impact of COVID-19 on Florida's local business operations. This survey will evaluate businesses affected by COVID-19 and the impacts the virus has had on the local economy. The Business Damage Assessment Survey can be taken online at floridadisaster.biz. Surveys submitted by small businesses can be used to access the Small Business Administration's Economic Injury Disaster Loan. 

Protective Measures:
If you'd like to contact us, please complete the form below.
1508 NE Jensen Beach Blvd.
Jensen Beach, FL 34957